How to Open bKash Agent Account
bKash is the oldest and most popular mobile banking service in Bangladesh. The popularity and service are also increasing day by day. Many unemployed have also been supported by the bKash agent business. Today I will tell you how to open bKash Agent Account, the requirements, and all the information about bKash agent account. Before…
bKash is the oldest and most popular mobile banking service in Bangladesh. The popularity and service are also increasing day by day. Many unemployed have also been supported by the bKash agent business. Today I will tell you how to open bKash Agent Account, the requirements, and all the information about bKash agent account.
Before we know how to open a bKash Agent account we need to know some more information about bKash Agent.
We all see there are bKash agents in our area. Let us know how they do bKash agent business, bKash agent profit or commission rate, and how much money you need to invest to get started first.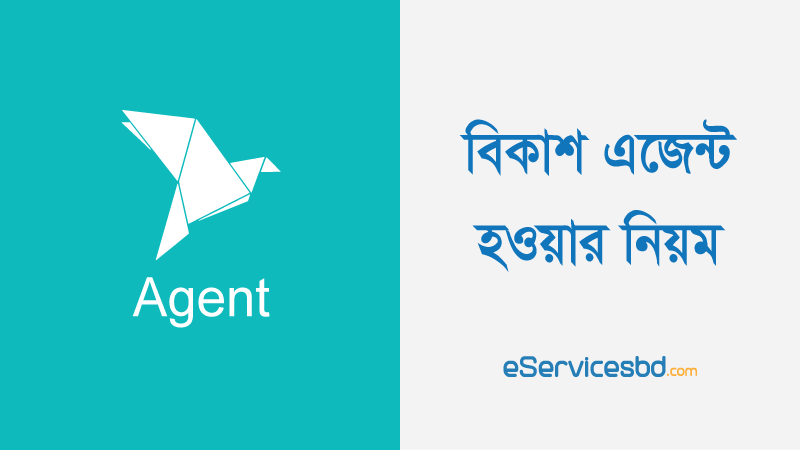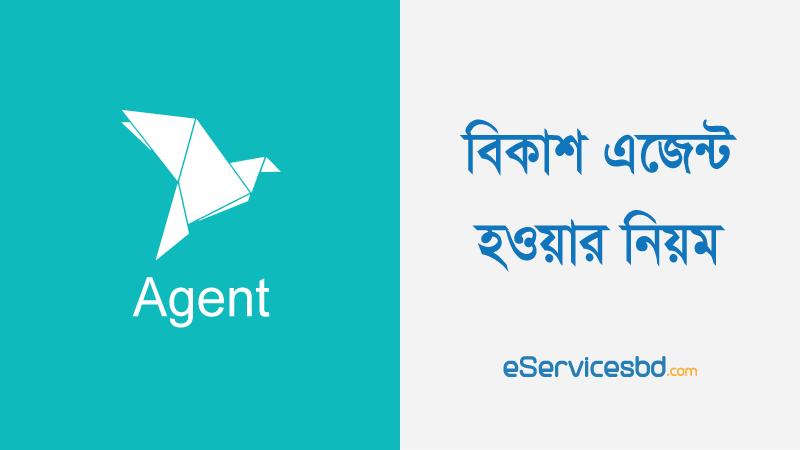 bKash Agent Business
Many people are making a good living by doing development agent business. Many have been supported. So it can be said that there is no reason to think that this business is at all. You too can make a fair income by making good transactions.
A bKash agent receives a commission for cash in, cash out and opening a customer's personal bKash account. This commission is basically the bKash agent profit.
Moreover, from time to time various commissions or offers are given to the agents from bKash.
bKash agent commission rate
bKash agent commissions may vary. For example, if you make a transaction by dialling the bKash USSD Code, you will get some kind of commission and if you make a transaction from the bKash Agent app, you will get a different commission.
| | |
| --- | --- |
| Transaction through the bKash Agent App | 4.30 Taka per thousand |
| Transaction through bKash USSD Code | 4.10 Taka per thousand |
বিকাশ এজেন্ট কমিশন
If you do 90 percent of the transactions with the bKash agent app, you will get 0.20 taka per thousand as a bonus. In other words, if you make a transaction from the bKash Agent app, you will get 4.50 taka per thousand as commission.
bKash Agent Registration Process
Let's know how to be a bKash agent. To become a bKash agent you must first have the necessary papers and fulfil all the conditions. Express your interest to become an agent by contacting the bKash sales representative / bKash distributor's office with the required documents. You can also request to open a bKash Agent account from the online bKash website. The next step will be to call you to verify your request.
Conditions to become a bKash Agent
You need to recharge you bKash Agent account with 1 Lac Taka for the first time.
A minimum balance of Tk. 7,000 should be maintained in the agent account.
You need to transact at least 2,000 taka every day.
You need to open at least 5 bKash personal accounts every month.
Necessary Documents to Get bKash Agent Account
The followings are necessary to get bKash Agent
A business organization or shop
Trade license
Prepaid SIM card registered in one's own name (No bKash account opened)
Your Photo etc.
Business/ Shop
To become a bKash agent you need a shop of your own or rented. You cannot apply for a bKash Agent account without a shop or business.
It is better to have the business in the centre of the market or at the junction of a few streets. This will increase the amount of your transactions and you will be able to earn a good income.
Trade License
Then you will need a trade license in the name of your business organization. You can collect it from Union Parishad, Municipality or City Corporation. This can cost Tk.500 in Union, Tk.1000 in Municipality and Tk.1500-2000 in City Corporation area.
TIN Certificate
TIN Certificate is proof that you are a registered taxpayer in Bangladesh. This TIN certificate is issued by NBR. You can download TIN Certificate online with your National Identity Card.
How Much You Should Invest in Bkash Agent Business
How much does it cost to be a bKash agent? There is usually no fee or charge for opening an agent account. However, you need to recharge 1 lakh taka balance in your agent account at the beginning. Although for rural areas this limit may be less. You can also recharge 20-50 thousand taka.
However, if you transact within a few days, you will be able to withdraw cash. If you already have a business, there is no additional cost.
In order to do business in rural areas, it is necessary to keep a balance of 20-50 thousand taka in the bKash agent account. And when doing business in a district town or town, you should always keep a balance of 1 to 3 lakh taka.
How to Open bKash Agent Account
To open a bKash Agent account, contact your local bKash sales representative or bKash distributor's office with a copy of your business organization's trade license, TIN certificate, national identity card and photo. Or, you can send a request to open an online bKash account.
bKash Agent can open an account in 3 ways,
Through the bKash sales representative
Go directly to your local bKash distributor's office
Request online to open a bKash Agent Account
Through bKash Sales Representative
Once you meet the qualifications and requirements to become a bKash agent, you request the bKash sales representative with the required papers. He will submit your papers to the concerned bKash distributor's office and will co-operate with the bKash account registration.
bKash Distributor Office
If you do not find a bKash representative, request to open an agent account by submitting your required documents directly to bKash Distributor Office. Your development agent will complete the registration if they deem it appropriate to give you an agent account by checking your papers. Also, you will be called for the next procedure or training.
Online bKash Agent Account Request
You can fill out a form and submit an application to open an online development agent account.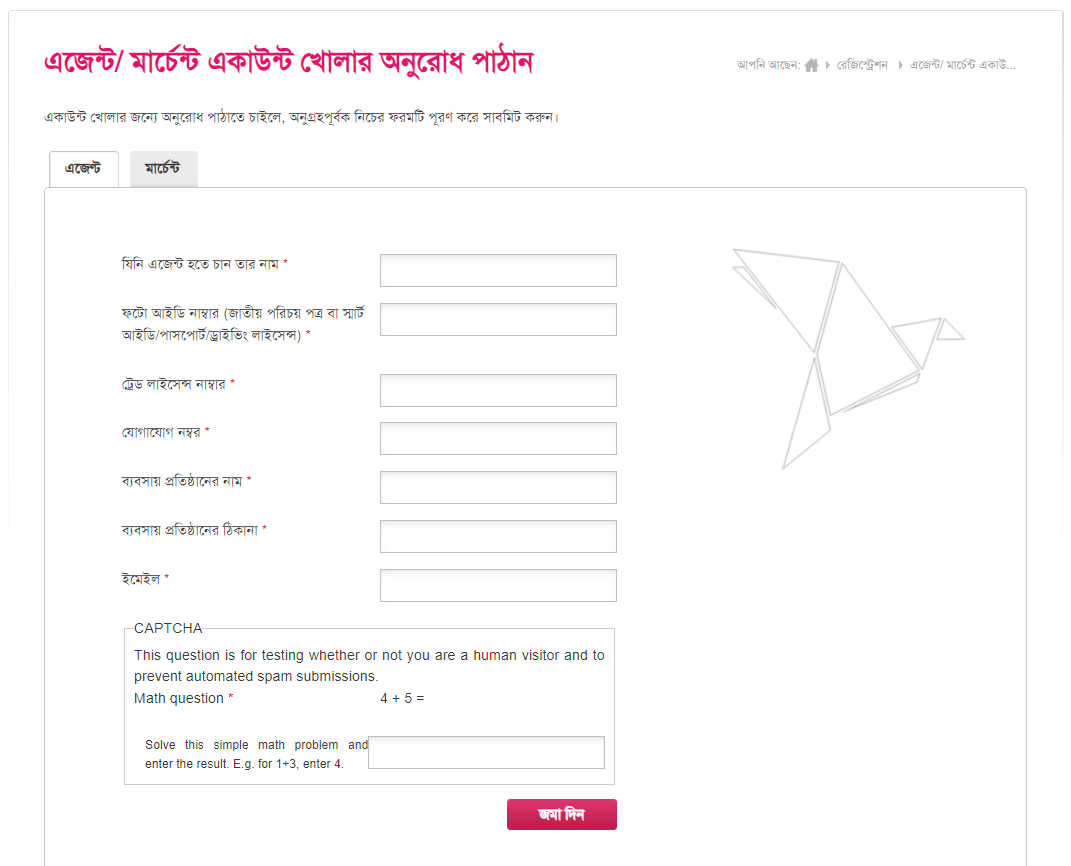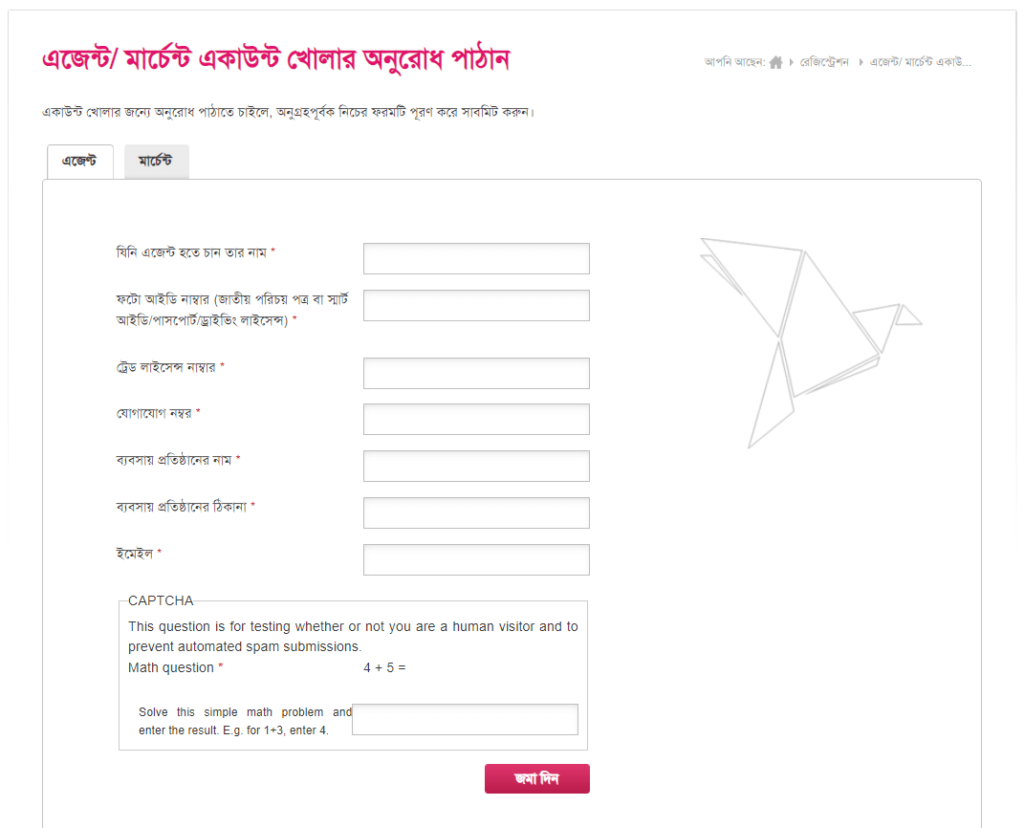 Follow the steps below to open bKash Agent Account,
Visit – Online bKash Agent Account Request and fill in all the information in English by clicking on the Agent tab.
Write your name in English according to the national identity card.
Enter the trade license number of the business organization, and your contact phone number.
Enter the name and address of your business according to the trade license.
Enter the active email address of the organization. If you do not have the address, open a new Gmail ID.
Finally fill in the Captcha and click the Submit button.
bKash will contact you within a few days to verify your application. Then your application will be sent to the bKash Distributor's Office. You will need to submit all the papers directly to the Development Distributor's Office. Once they are satisfied after verifying all your information, they will complete your bKash Agent Registration.
Final Words
In this blog, I have described only the information, documents and rules required for getting a bKash agent. The easiest way to become a bKash agent is to talk to your area sales representative. He can do everything easily.
If this is not possible, you can request to become an online development agent. If no response is received, please contact your Divisional / District Development Distributor's Office with the required documents. To find the address of your nearest bKash distributor office use bKash locator.
FAQ
How to be a bKash agent?
You will need a business to be a bKash agent. To be a bKash agent, request bKash sales representative or bKash distributor's office with your business trade license, tin certificate, your national identity card and photo.
How to send money to bKash agent?
To send money to the bKash agent account, log in to your bKash app. Then select the cash-out option. Type the agent's number or scan the agent's QR code. Type the amount you want to cash out and go next. Enter your bKash PIN Number. Finally, tap and hold to complete the process.
More about bKash