How to Check GPF Account Balance Online | GPF Balance Check BD 2022
See how to check GPF Balance 2022 from online www.cafopfm.gov.bd with your NID and Mobile number.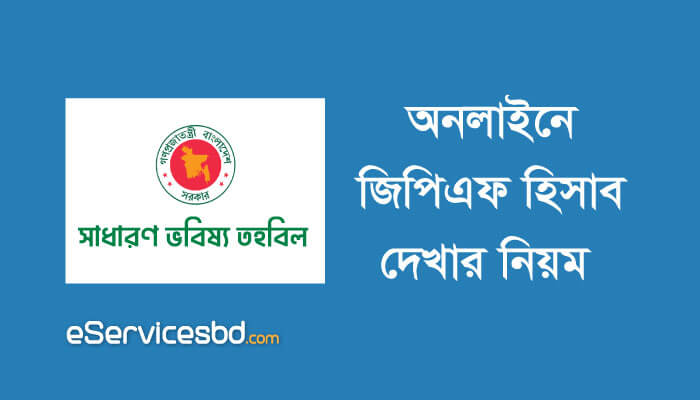 Here I'm going to show how to check GPF balance 2022 online from your mobile or computer. Hope it will be helpful to you.
In the past, you had to visit the local Upazila Account Office and collect the GPF account slip to know the GPF balance. But that has been easier today. Now you can check your gpf information online sitting at home.
After the introduction of EFT for the distribution of salaries and benefits to government employees, GPF accounts were brought under the Pension and Fund Management Branch.
So from now on the Pension and Fund Management Branch will control and maintain the accounts of GPF Fund.
What You Need to Check GPF balance Online
The process of finding GPF details online is very simple. The following things are required to check GPF balance online.
A smartphone / Computer / Tab
Internet
NID / SMART ID number (used during pay fixation)
Mobile number (used in pay fixation)
How to Check GPF Account Balance Online Bangladesh
To check GPF Balance, visit www.cafopfm.gov.bd from a computer or mobile phone with an internet connection. Click on GPF Information and submit with your NID and mobile number. After verifying the OTP code, you can see the GPF balance. Details are shown below.
Follow the below steps carefully,
Step 1: Visit www.cafopfm.gov.bd from Firefox or Google Chrome. You can click the link to visit- www.cafopfm.gov.bd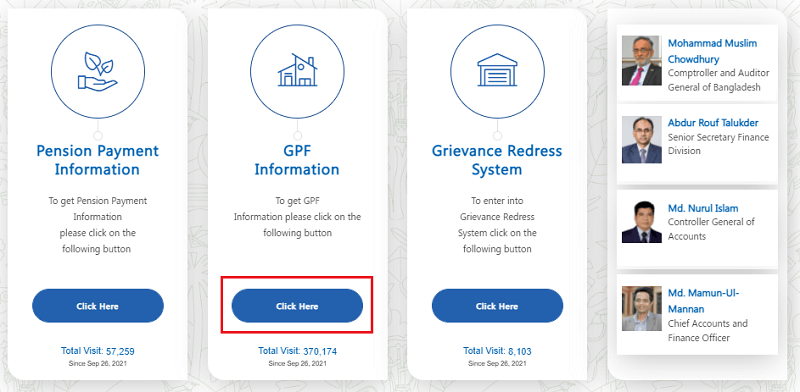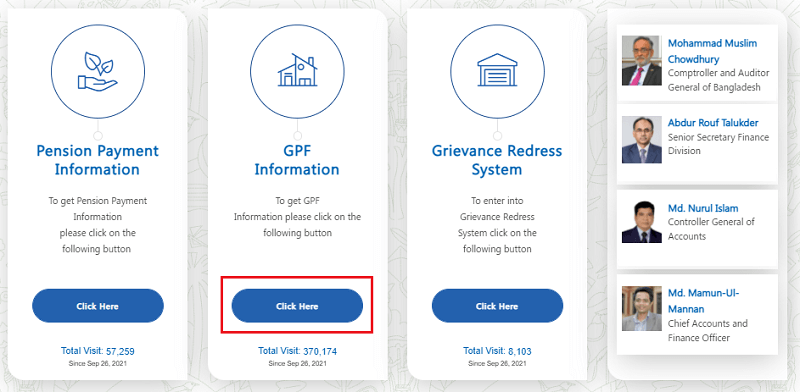 Then you will see some options like the above. From here click on the Click Here button from the GPF Information option.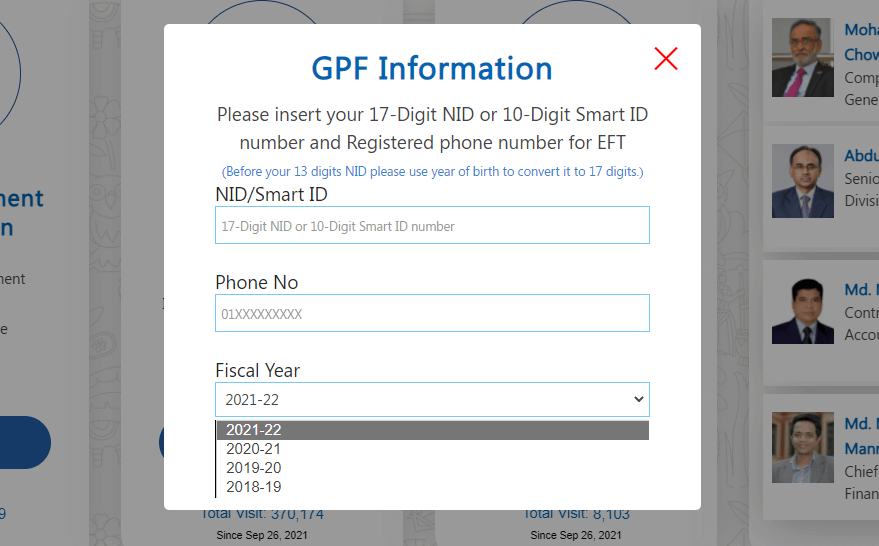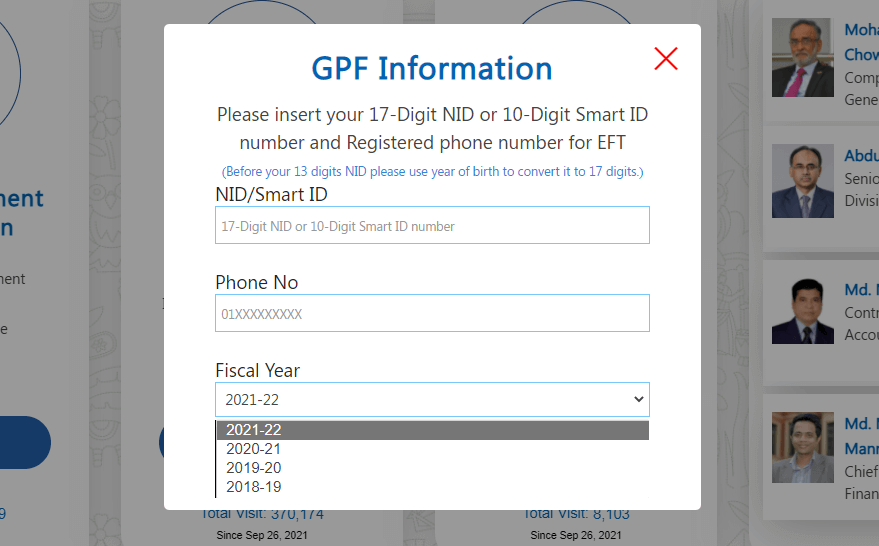 Step 2: Enter your National Identity Card Number (NID / Smart ID Number) here. Then, put the mobile number that you gave when doing your pay fixation or EFT.
Select the fiscal year account from the Fiscal Year option. Now click on the Submit button.
Step 3: After clicking on the Submit button, a 4-digit OTP code will be sent to your mobile for Employee Verification. Submit again with the OTP code.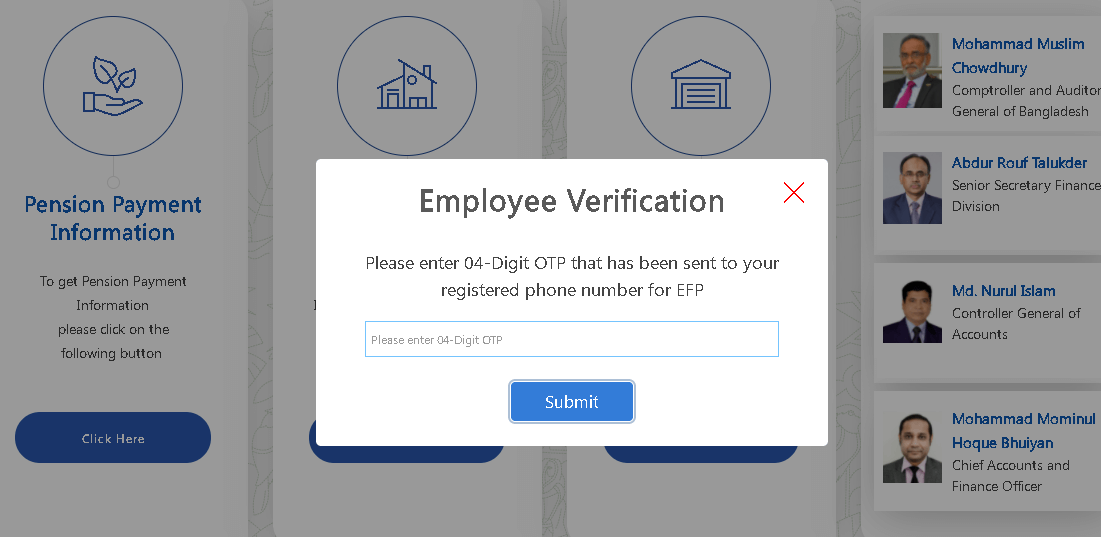 On the next page, you will see all the GPF information including your name, NID number and GPF account number. Below that you will see Opening Balance, Subscription, Refund, Profit, Withdrawal and Closing Balance in a table.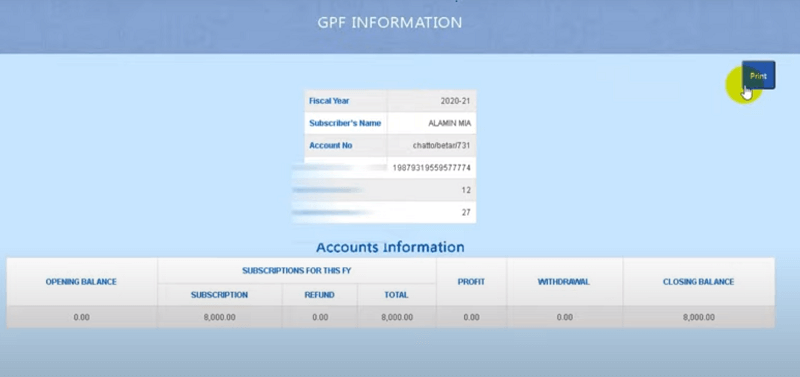 If you want, you can download the GPF statement by clicking on the Print button at the top right. This print copy can be used to withdraw GPF money. It does not require any kind of official signature.
GPF Calculator
With the help of the GPF Calculator, you will be able to know the year-end balance by inputting the opening balance and monthly contribution.
To calculate GPF balance visit – GPF Calculator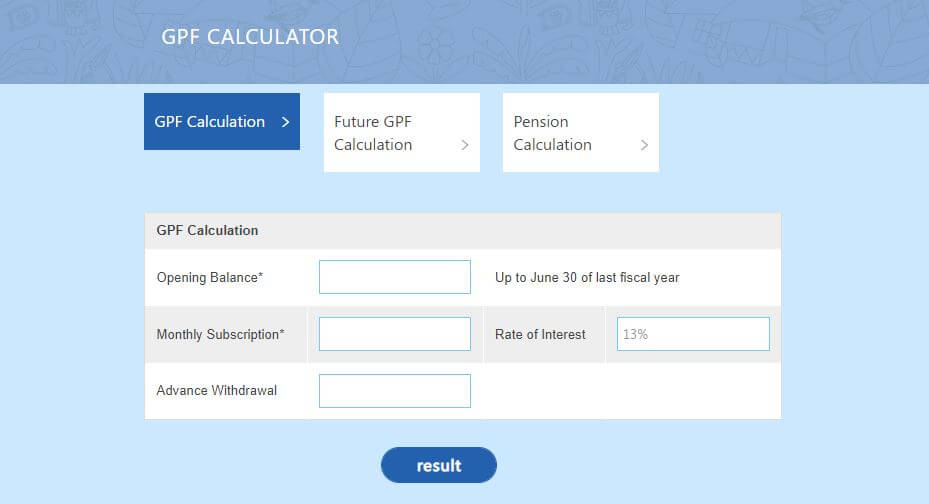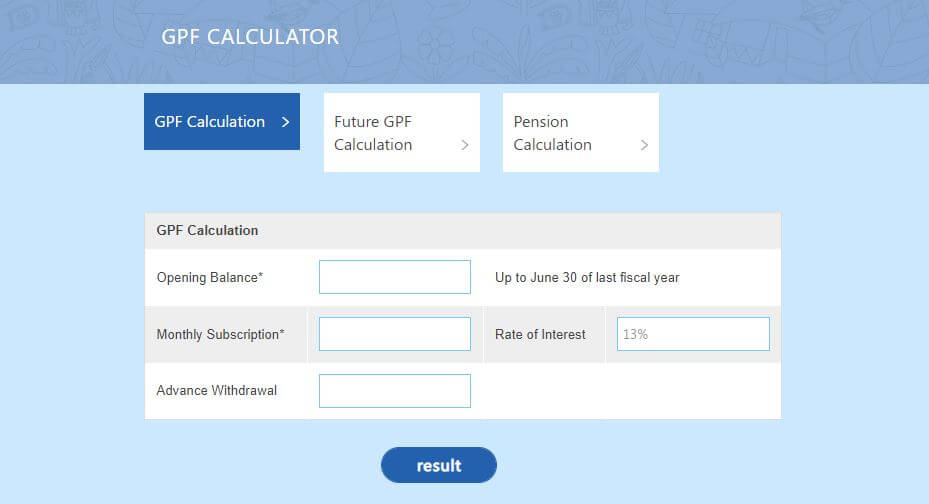 How to Find GPF Account Balance with GPF Calculator
To find GPF or General Provident Fund balance, enter the Opening Balance. Then enter the amount of monthly contribution. Write if there is an Advance Withdrawal, if not avoid it.
Then if all the contributions of the month are equal then give yes. If not, select No and enter the amount of contribution for each month.
Finally, select Yes if all the contributions are paid by the 5th of each month. Then click on the result button to view the GPF calculation.