Bangladesh National ID Card Free Download | NID Card Download BD 2023
You can download your National ID card online copy with voter slip number and date of birth. See NID card download process.
Advertisement
Hey, Are you a new Voter registered recently? Didn't get your National ID card or Smart Card? Here is how to download NID card online copy (Jatiyo Parichay Patra) now by slip number.
You can not download Old NID Card which was registered before 2019 or NID Card is delivered. If you have lost or damaged your old NID card you can apply for NID Card Reprint.
For the Coronavirus crisis, the Election commission has updated its server to deliver NID card directly to voters. 2 days ago Bangladesh Election Commission has started an SMS service to know NID card Numbers of any voter.
Advertisement
Here I'll show how you can find your new National ID Card Number and download a full printed version pdf copy. This copy is not a temporary ID card or Online Copy, this is a real ID card.
You just print with colour printer and laminate. So let's know how you can find your NID number.
NID Card Download by Slip Number from Online
Here I'll show you how to Get NID Online Copy by Slip or NID Number (nid number diye nid card download)
Advertisement
Now you are to complete the registration on the Bangladesh NID application System. You need 2 devices. If you are using a computer, you also need a smartphone for face verification.
Or you need 2 smartphones. One is for visiting the NID server and the other is for Face Verification
Follow the steps now.
Step 1: Register Account | Bangladesh National ID Card Check Online
1. First Download NID Wallet Apps of the Bangladesh Election Commission on your 2nd Mobile phone.
Advertisement
2. Visit the link NID Account Registration. Here you will see a page like below.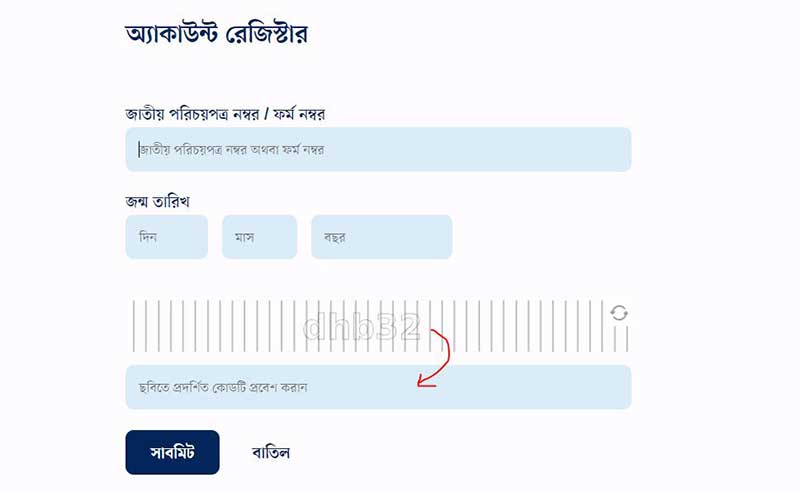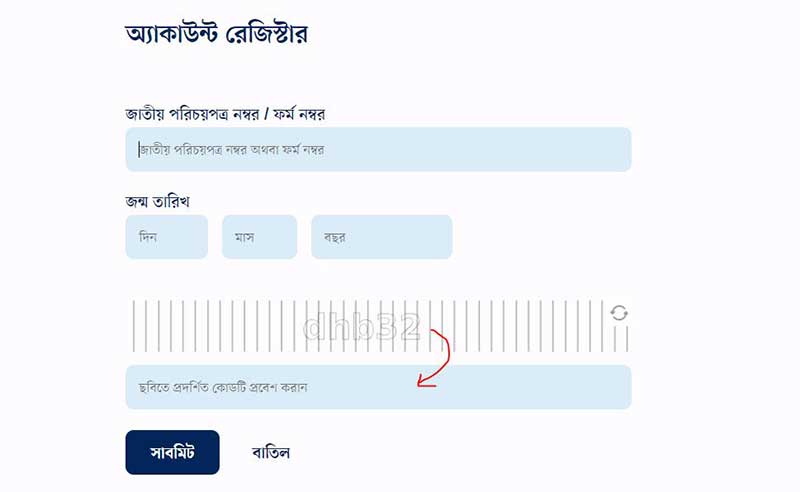 2. Write your National ID card Number or Slip Number. put your date of birth and write the 5 numbers or letters in the picture.
3. Now click on Submit Button. You will see the below page.
Now select your present address, Division, District, and Upazila. Select also your permanent address and click on next পরবর্তী button.
Advertisement
4. If everything is correct, now your mobile will be verified. You will see the page below.
You have to give your Mobile number if the field is blank. There may be your number saved which you gave in NID registration form. You can change the phone number.
Write your active phone Number and click on Send SMS or বার্তা পাঠান।
5. You will receive a 6 Digit Code. Now put the code correctly in the next page.
6. If you did it successfully, you can see your Name. Now you have to set a password for your profile. With this password, you can again download your ID card if needed.
So, now click on Set Password button. Give minimum 8 digits strong password.
7. Now you have to verify your face with NID Wallet App Scanning services.nidw.gov.bd QR code.
Open NID wallet app and scan the QR Code you see in NID website.
If everything is done, now you can see your picture and all the new nid card information and details in the dashboard.
Step 2: Online NID Card Download Bangladesh
Here you can see the NID Card Online Copy Download link. Now click on Download and you can download a full print version NID Card PDF copy. This is the original Nirbachon Commission NID Card card online copy.
Just print it and laminate it carefully. Hope this tutorial will help you a lot.
If you don't see your National Identity card in the download option, it's sure your card is delivered to you or your local Election office. Then, you contact your local election commission office.
If any of your Card information is misspelled or wrong, apply for correction as early as possible. Any wrong and misspelled information will make you suffer a lot.
NID Card Download Near Chattogram
NID Card download near Chattogram is the same as described on the top. If you have not received your national nid card from your local Upazila office, you should first apply for reissuing your NID Card online. Hopefully, you can get your nid card within 10/12 days.
If you don't get your national ID card after the reprint application, and it's urgent, you may visit to Chattogram Regional Server Station for urgent service.
NID Card Download Fee
You don't have to pay any fee for a new NID Card download if you completed voter registration after 2019. From 2019 to now, no NID card download fee is required.
But If you registered for National ID Bangladesh before 2019, you can not download your NID Card for free. You have to apply for NID card reprint.
Please, write a comment with Yes or No, answering me if this is helpful for you?
See you with more helpful information. Have a good day.
FAQs about NID Card Download
How can I download my national id card online?
If you registered for National ID Bangladesh after 2019, you can download your National ID Card online for free. To download your NID card. visit https://services.nidw.gov.bd and register an account with your NID no or Voter slip no. Complete your account registration through mobile verification and face verification. Then log in to your account and download your NID Card PDF.
How to get the nid card online in Bangladesh?
First, register NID wing website with your NID number or Slip Number. After login, you can download your NID card and laminate the card for use. See how to download nid card on this page.
How do I get a NID Card?
If you are 16 years old, you can apply for NID Card registration online with all the necessary and true information. After applying online, submit the application form to your Upazila Election Office. They will collect your biometric information and take photo. When your application is approved, you can get your NID card instantly online. They will provide you Smart NID card later.
Where to collect NID Card in Bangladesh?
If you have successfully registered for National Identity Card, you can collect your nid card from the local Election Office. Local election offices are Upazila and District Election offices. Besides, you can also collect your NID card online.
More NID Card Information Links
Advertisement