Oman Visa Check Online by Passport Number 2023
Have you applied for Oman visa? See how to check oman visa online by passport number and download payment receipt.
Advertisement
You may have applied for or received a visa for Oman. Or want to check someone else's visa status. Here I will show you how to check e-visa of Oman by passport number.
Many people from Bangladesh can go to Oman for work or business needs. If you are among them, you might find this post useful.
There are different types of visas. If you have obtained a visa through someone, you should check that your visa is valid and of the correct type.
Advertisement
There are many people who have paid the visa fee but are still waiting for the visa to be received. They can also check if the standard visa application has been approved.
Oman Visa Check
To check your Oman Visa, visit evisa.rop.gov.om from your mobile or computer. Then click Track Your Application from the top menu, enter your Visa Application Number and Travel Document Number or Passport Number. Then select your Nationality, enter the captcha code, and search. You can find your visa status.
Advertisement
The process is shown below with detailed pictures;
What you need to Check Oman Visa Online
Visa Application Number or
Travel Document Number (Passport Number)
Follow the Steps to Check Oman Visa
First, visit Oman visa check system;
Enter the Visa Application Number – Must write in English.
Enter your passport number as Travel Document Number.
In Select Document's Nationality, you have to select the country of the passport i.e. which country you are from. If from Bangladesh, select Bangladesh.
Enter the number shown in the image in Text Verification and search.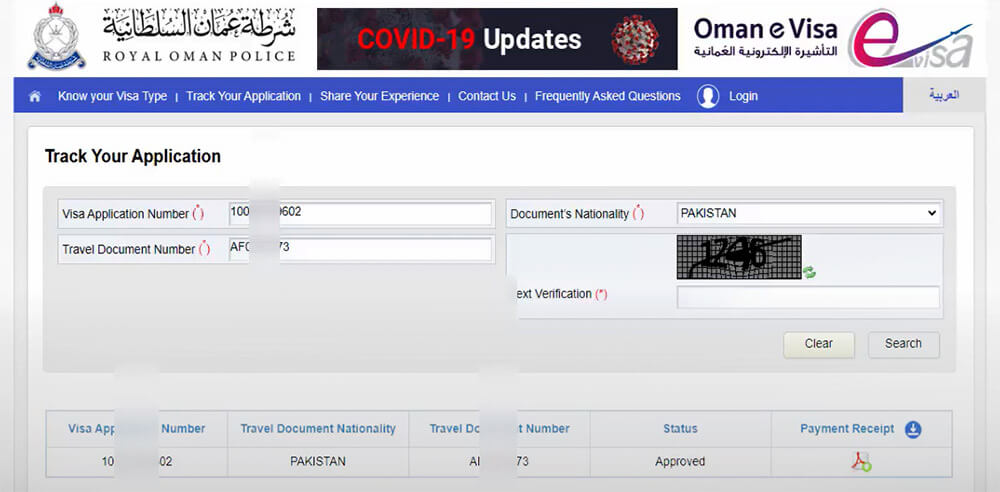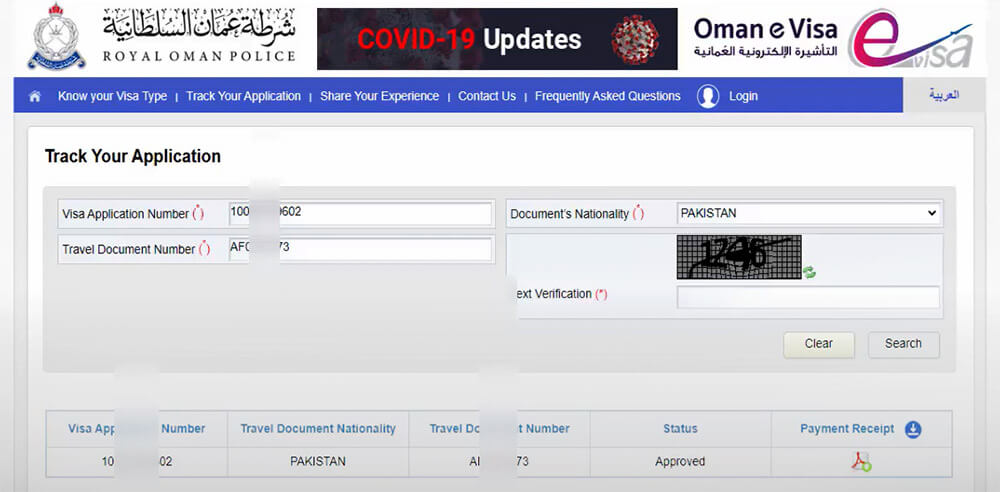 You will find your visa information below. If you are approved, you will see Status Approved. Then download the Payment Receipt PDF file from the right side by clicking on the arrow above.
Please check this page- Visa Check Online by Passport Number to know how to check different country's visa online.
More on Visa Checking
Advertisement