TIN Certificate Check BD | E TIN Verification Bangladesh
I showed a trick how you can check any TIN Certificate. Know whose name the TIN is registered under?
Advertisement
Sometimes, it may be necessary to verify or check if a TIN Certificate is valid or not. Large financial institutions may know this using NBR's Server or API, but no one has the opportunity to check their TIN certificate in person. In this post, I am going to tell about TIN Certificate check online Bangladesh.
However, I will share here a trick on how to verify or check an e-TIN certificate online which no one has shown before. You can verify the TIN Certificate with the 12 digit TIN number of any person whether the TIN Number is correct and the TIN is registered in the name of any person.
However, this trick is only for those who are in urgent need. There was a request not to follow it unnecessarily.
Advertisement
How to Check e TIN Certificate in Bangladesh
We will basically use the online form of VAT registration to verify the Tin Certificate. It is better not to register on VAT online service site without any urgent need. This is a long and complicated task. See the detailed process below.
Step #1: Visit the Vat Online Service website
First, visit the VAT online service website by clicking this link https://vat.gov.bd. Click the Sign-Up link from the top menu.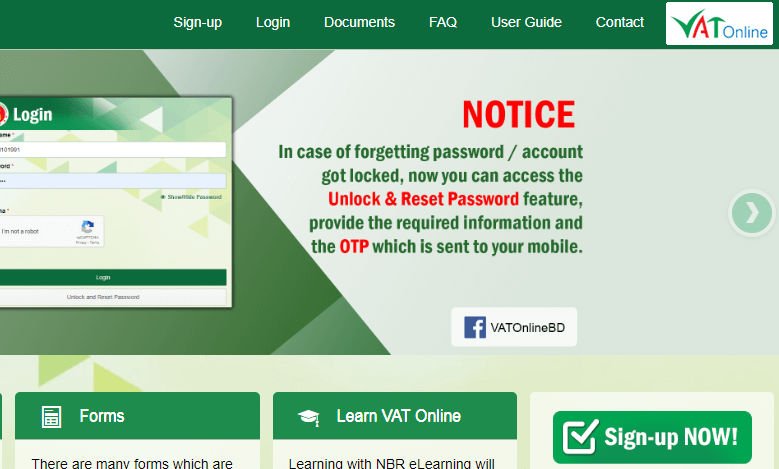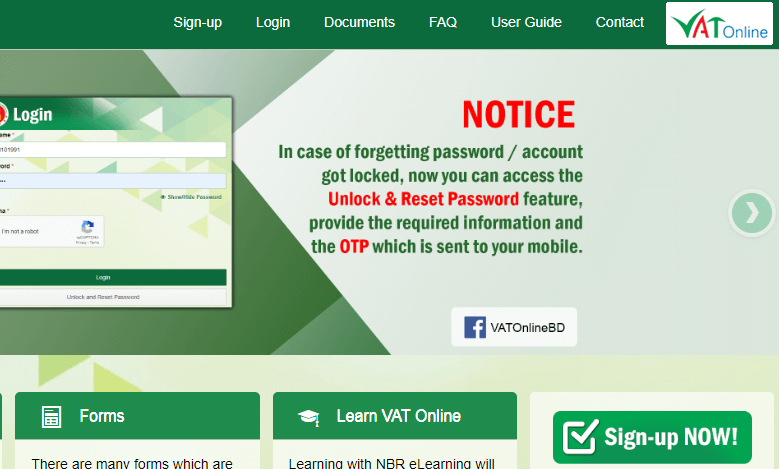 Step #2: Register on Vat Online Service
After going to the Sign-up menu, you will get a form like the one below. Here you have to do with the correct information for registration. If you have already registered with your mobile number, you will not be able to re-register.
Advertisement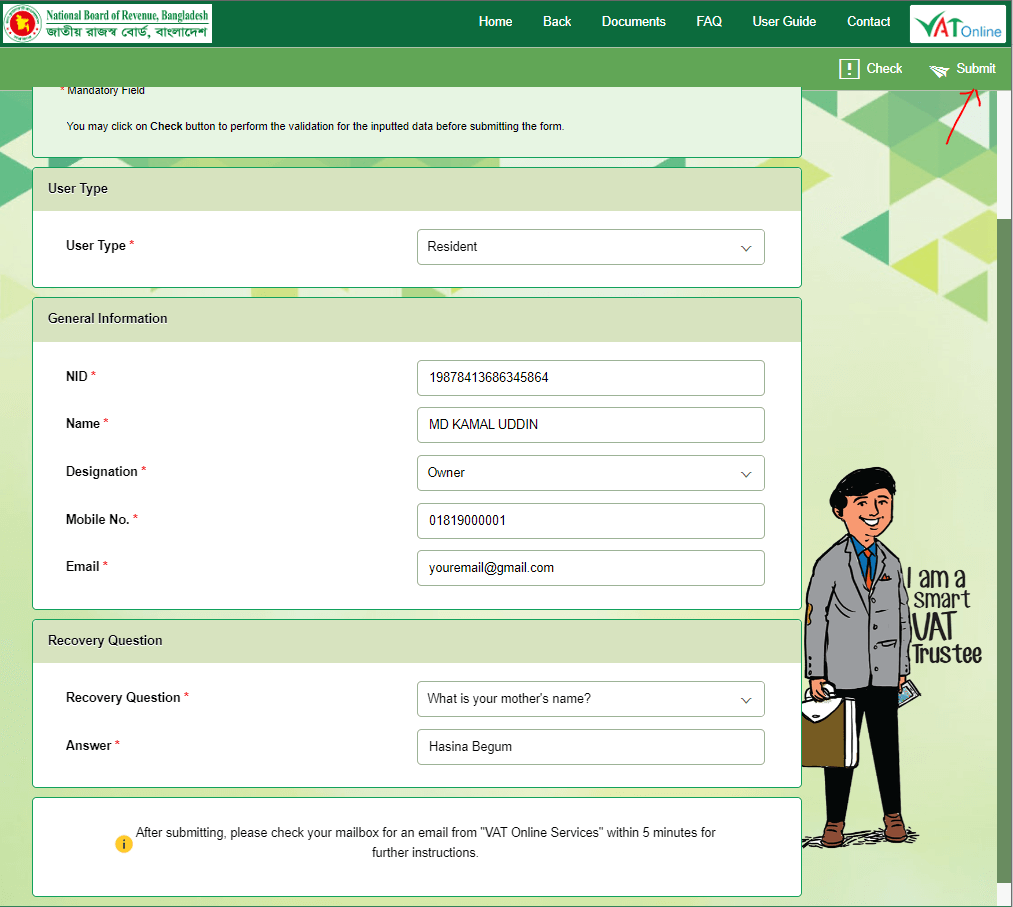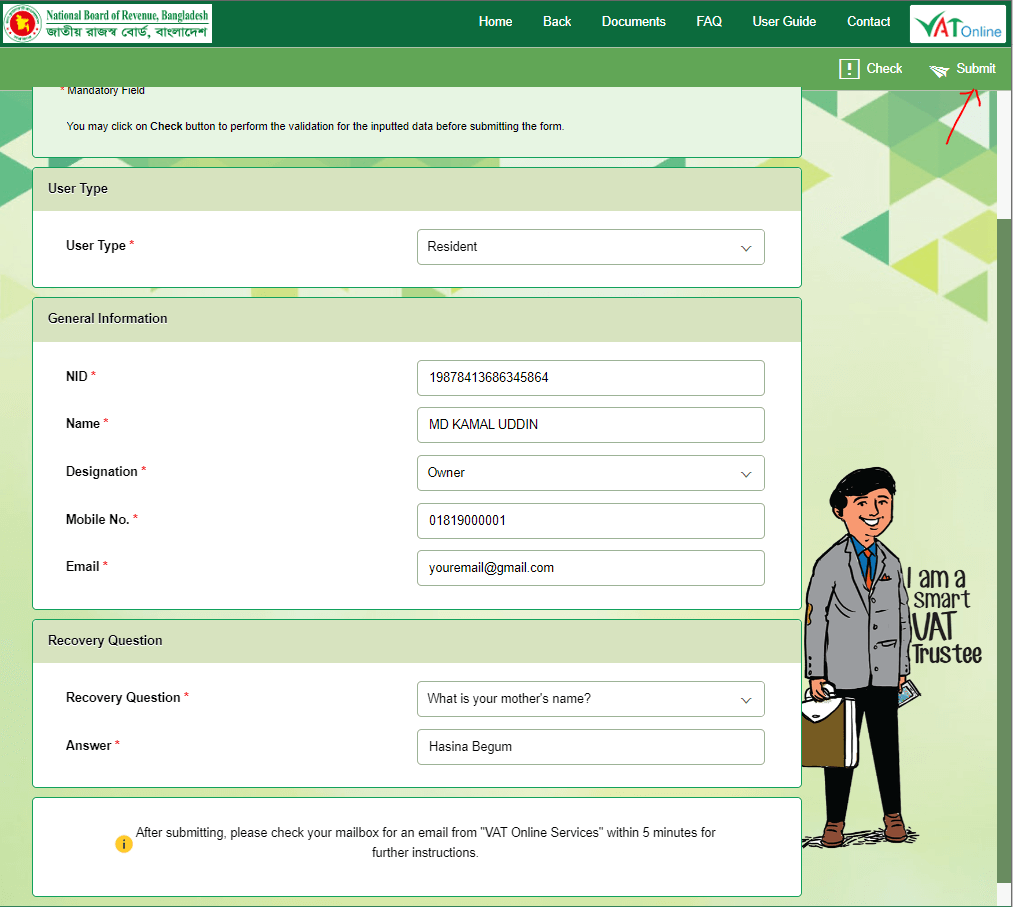 In the User Type option, select Resident. Enter your 17/10 digit NID number as per the national identity card and enter the name.
Select Owner as Designation. Enter your own mobile number 11 digits and your active Email address. Email Address is very important because your username and a temporary password will be sent via email.
Select a question from the Recovery Question option and answer it. If you forget your account password in the future, you will be able to recover the account by answering this question.
Here I am, What is your mother's name? I selected. You can select your choice.
Advertisement
Finally, click the Check button from the top right. If there is no error – Click the Submit button and confirm with OK.
Step #3: Complete OTP Verification
An OTP will be sent to your given mobile number. Enter the OTP in 2 minutes and click on Verify button. Click on Resend OTP button to get OTP again.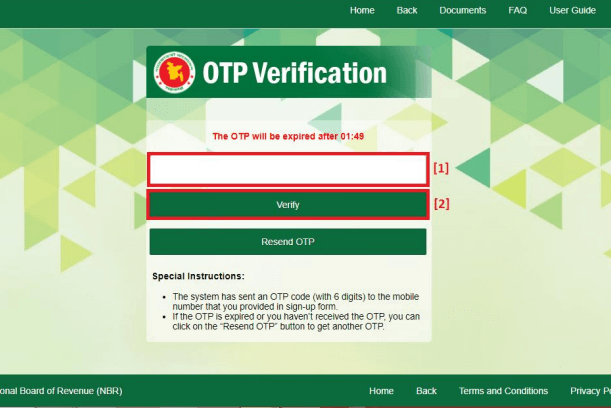 After successfully verifying the mobile, your registration application will be submitted and you will see a Submission ID.
Step #4: Login and Change The Password
Username and Temporary Password will be sent to your email within minutes to log in. After logging in with these, you need to set a new password.
Advertisement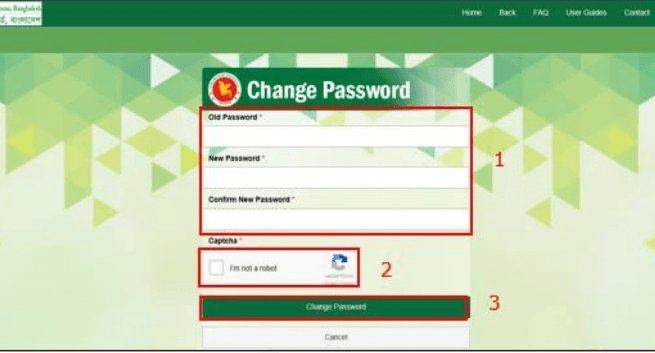 To set a new password, enter the Temporary Password received in the email in the Old Password field and enter a new password of your choice. Enter the new password again in the Confirm New Password field. Then fill in the captcha.
Finally, set the password by clicking the Change Password button.
Step #5: TIN Certificate Check Online Bangladesh
Now you can check any TIN Certificate by TIN Number. To verify the TIN certificate, go to the Forms option from the dashboard. Click on the Add Form link from the top right. Select the VAT / Turnover Tax Registration Form from the Select From drop-down menu and click OK. A form like the below will load.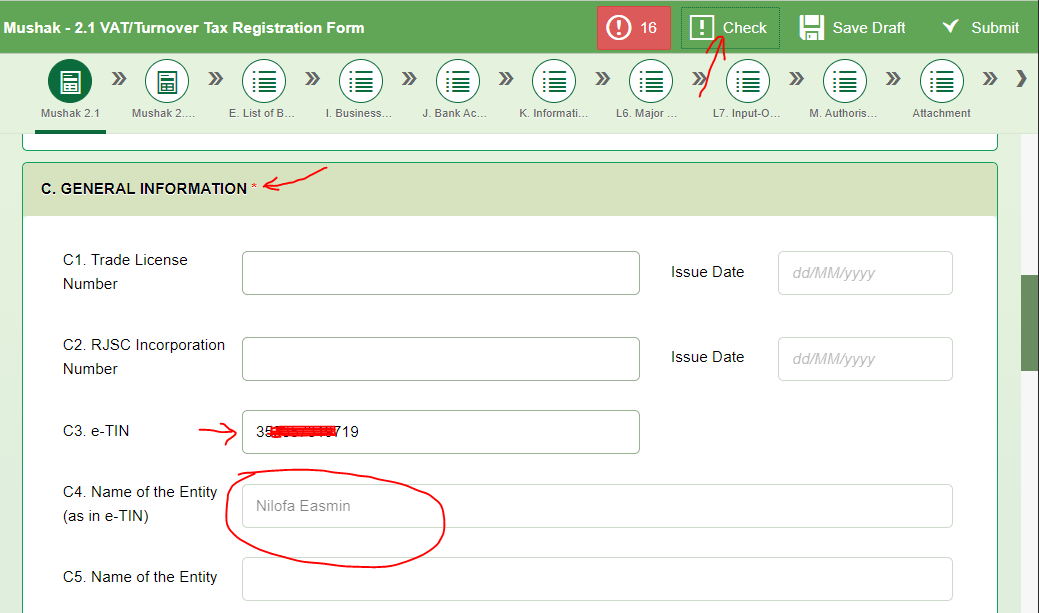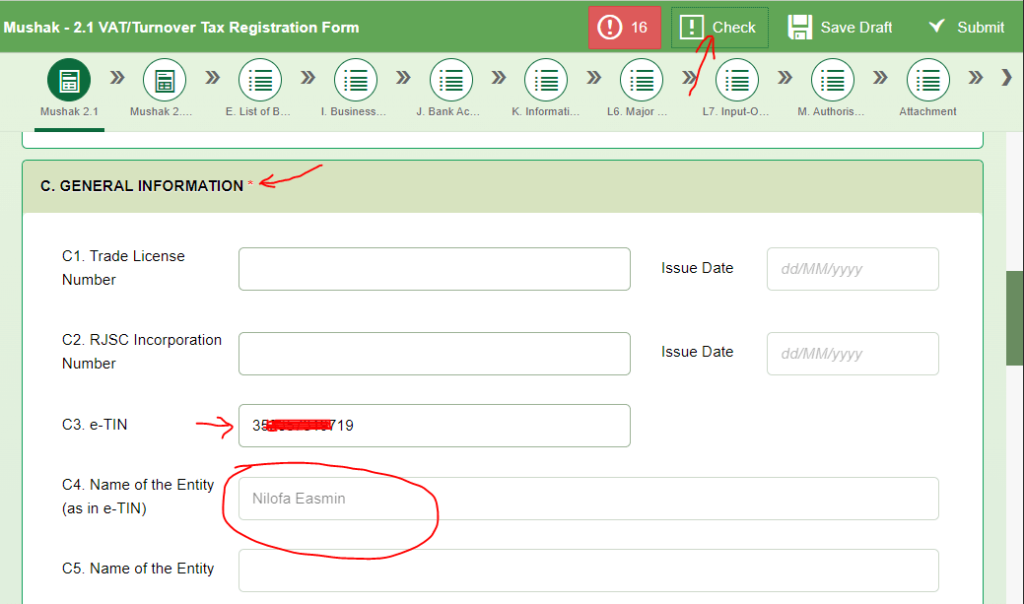 Enter the 12 digit TIN number in the e-TIN box in the C. GENERAL INFORMATION section here and click on the Check button at the top. If the TIN certificate is correct, you will see the name of the person registering the TIN.
TIN Certificate Check by NID
There is no shortcut way to check TIN Certificate by NID number. You can check any TIN certificate through this process by e TIN number.
You may do one thing to check TIN certificate by NID, try to register a new TIN Certificate. If any TIN is registered under the NID, you will be notified that you have already Registered TIN.
If a TIN certificate is registered previously, you can try to recover TIN Certificate.
The process shown above is a little complicated. Since there is no opportunity to check TIN certificate in Bangladesh personally, you can verify the tin certificate online by following this trick in an urgent situation.
More Related Information about TIN Certificate
Advertisement