Train Ticket BD: How to Buy Bangladesh Railway Train Ticket
100% Tickets are now issued online. So it is easy to collect your train tickets online. Know how to buy online train ticket in Bangladesh with your mobile.
Advertisement
Currently, 100% of train tickets can be purchased online. For those of you who do not know how to collect train tickets online, Bangladesh Railway's online ticketing rules will be shown with details and pictures. You can buy train tickets online from your mobile with the help of bKash.
Note that Bangladesh Railway has entered into an agreement with Shohoz-Synesis-Vincen Joint Venture to sell tickets online for the next 5 years. So from now on easy train ticket sales activities will be conducted.
Bangladesh Railway Online Train Ticket Booking Time
Railways are considered to be the safest and most affordable mode of transportation in Bangladesh. So everyone feels comfortable using the train on any long-distance journey.
But it is very difficult to get a train ticket. Even if you stand in a long line, you may not get a ticket in the end. So, you can easily book train tickets from your mobile while sitting at home. The time to buy train tickets online is 24 hours a day. You can purchase advance train tickets from today till next 2 days.
Let's see how to buy a train ticket.
How to Buy Online Train Tickets in Bangladesh
To buy train tickets online, register an account with your name, email, mobile number, and NID number on the website eticket.railway.gov.bd. Then search for specific date trains according to your station and destination. Finally, select the seat and confirm the ticket by paying online.
Advertisement
You can also request for Ticket Refund online from your profile. Let's learn first how to b
Step 1: Verify Your NID
To purchase Train Ticket, you may install the Rail Sheba app or visit e Ticket website-eticket.railway.gov.bd.
At the very first, you need to do ID verification with your NID number and date of birth. Click Register to get started. Put your Mobile Number, NID Number and select your date of birth. Then click Verify button.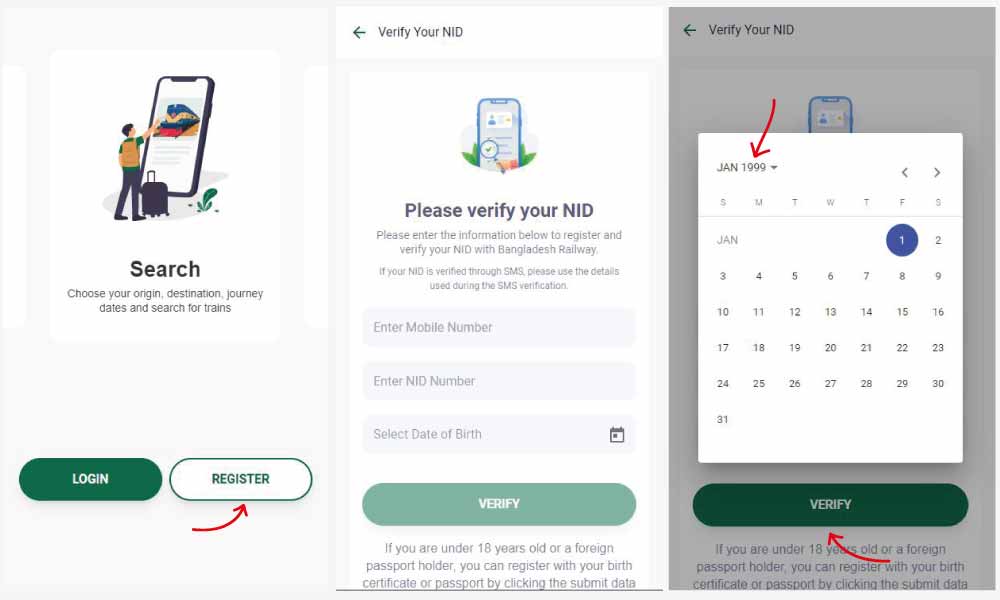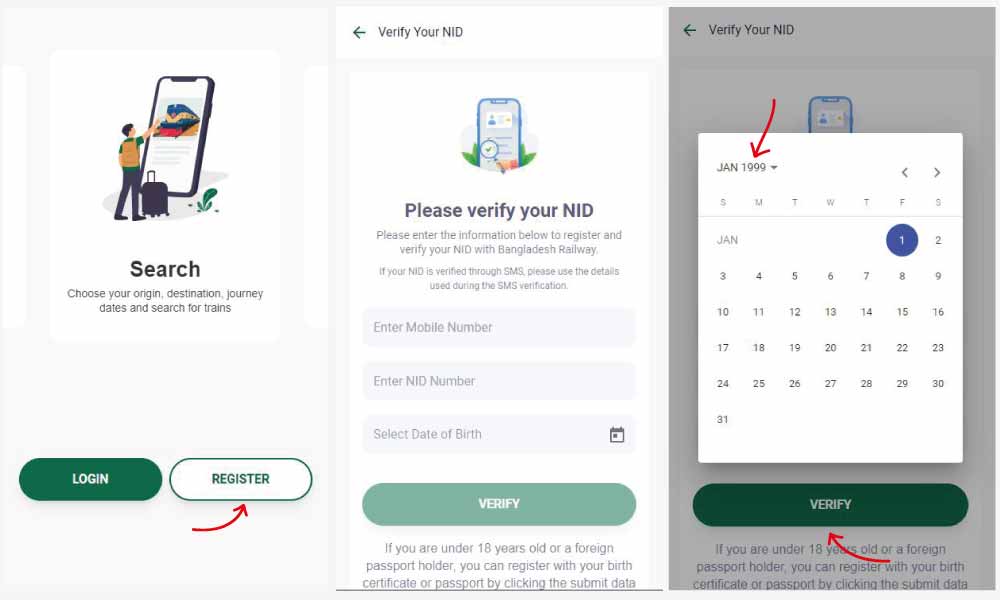 Once your ID is verified, set a Password. Enter your Email, Post Code, and Address in English and click the Registration button to complete the registration.
Advertisement
If you have not got your National Identity Card yet, you can download your National Identity Card online. All information must be written in English. Now the Bengali version of the website is not ready.
Step 2: Verify your Mobile Phone
Then a 6-digit Verification Code will be sent to your mobile and you will be asked to verify with the Code. Enter the code received on your mobile within 45 seconds and click on the Continue button.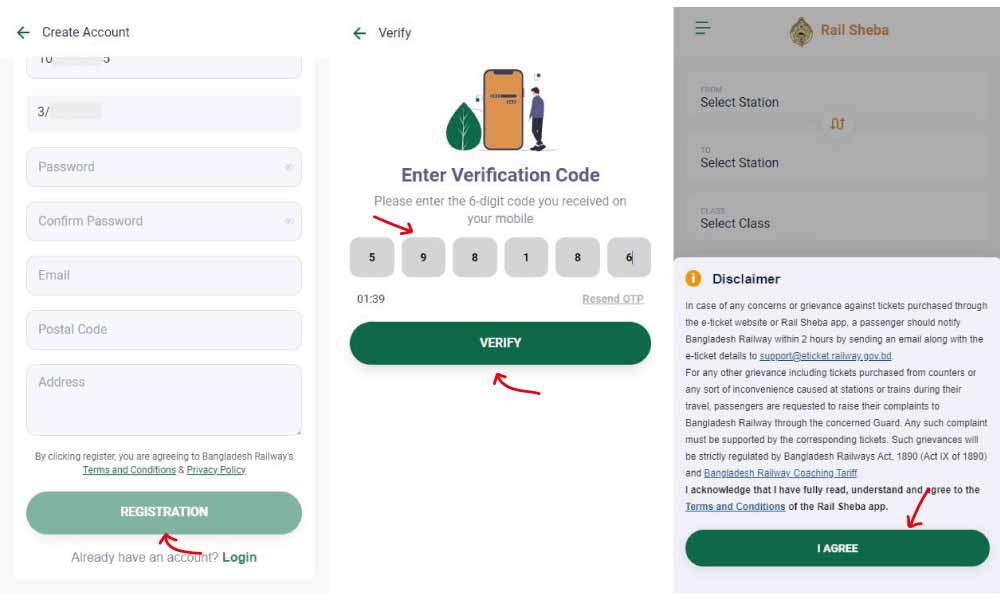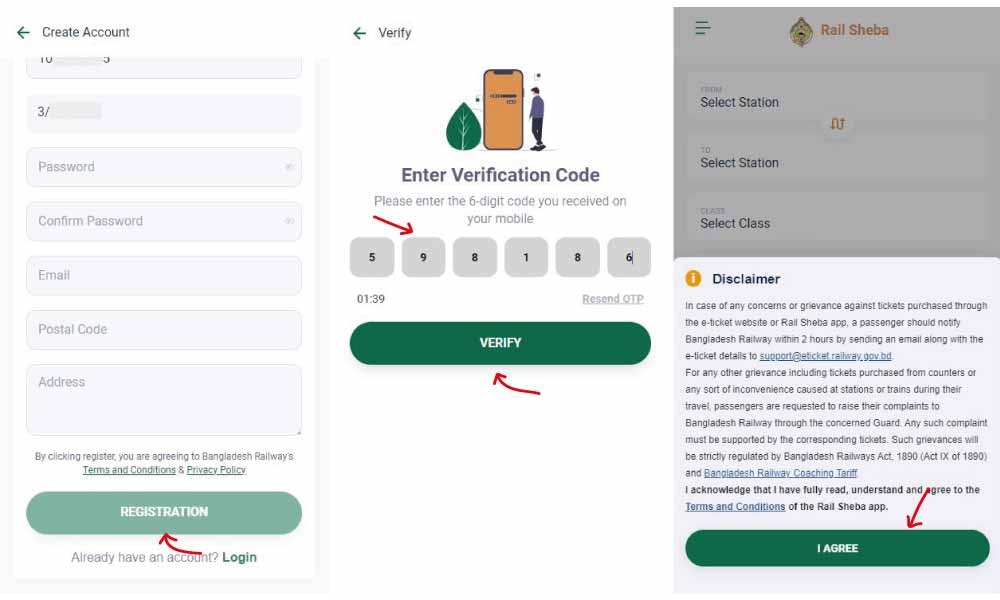 Your account will be fully activated and automatically logged into the account. After login, I AGREE to the terms of the Disclaimer
Step 3: Search for Trains
After updating the profile, go back to the home page of the website. Search the train according to From Station and To Station.
Advertisement
From – Choose the station from which you will get on the train.
To- The station you will get down.
Date of Journey – Choose your travel date.
Fill in the options like above and click on the Find button. For normal tickets, you may select SHOVON. Then all the trains of your chosen date will be shown. From here, select the train of your choice according to the departure time.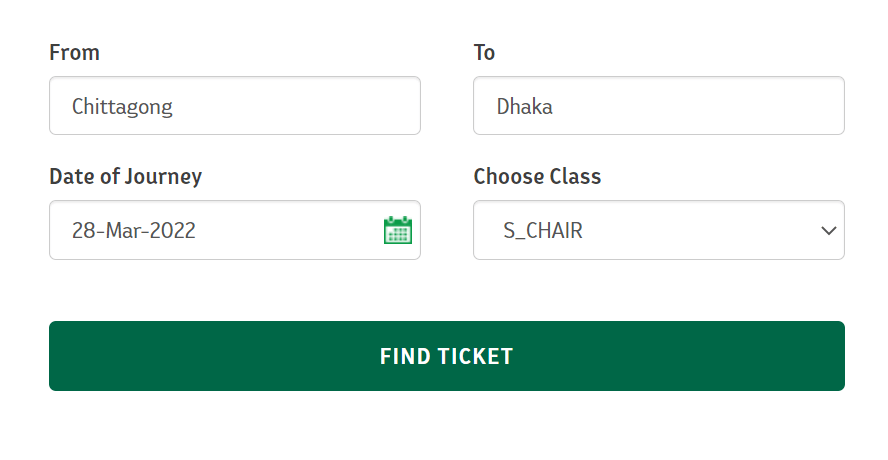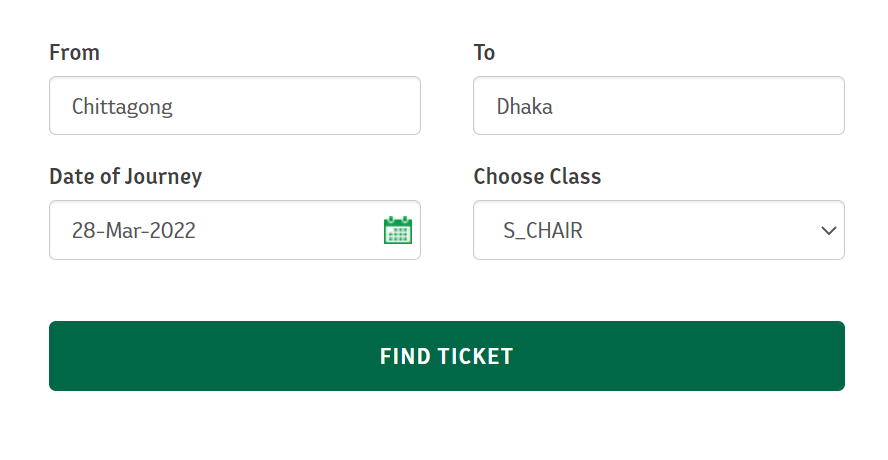 Step 4: Select Train and Seat
Choose the train and seat of your choice according to your travel time and seat type. For this, you can book the seat of your choice by clicking on the View Seats button, subject to the seats being available (if seats are available). The children's ticket price will be adjusted in the next step. Then go to the next step by clicking the CONTINUE PURCHASE button.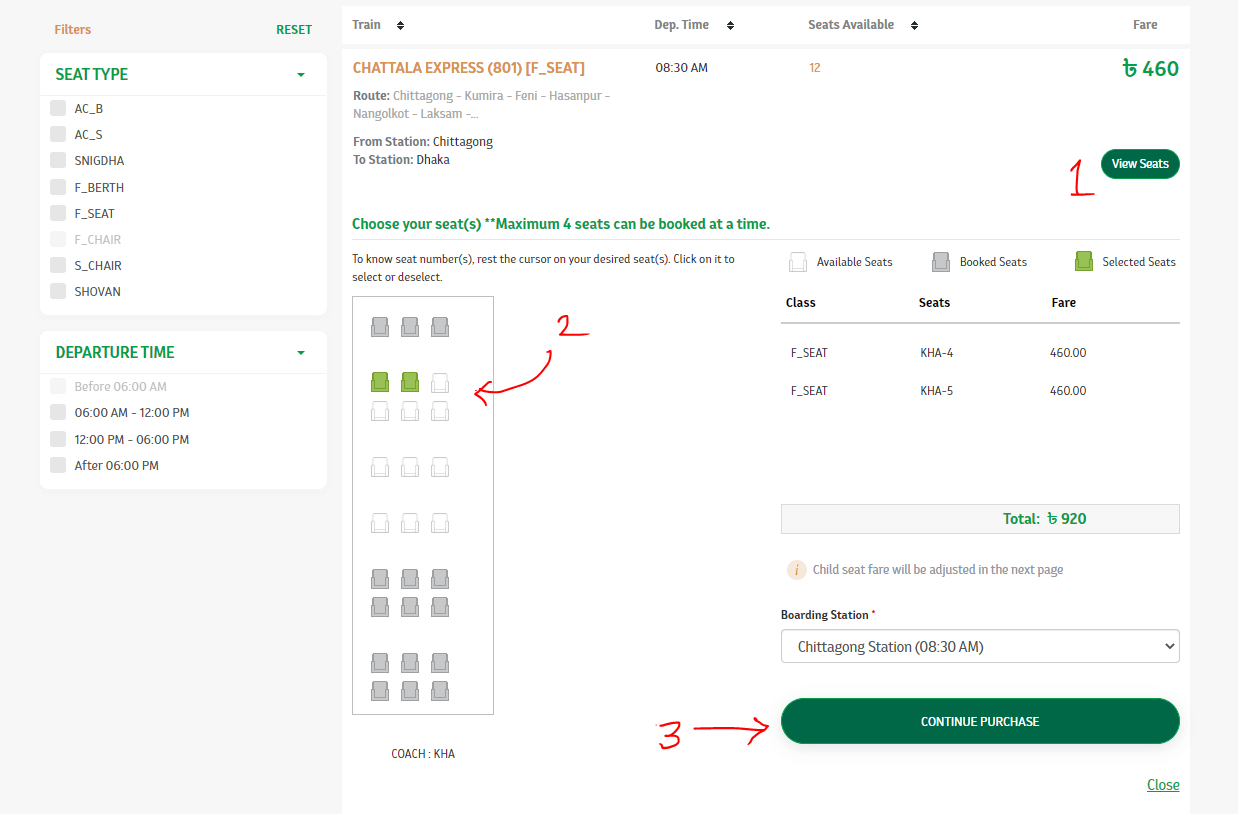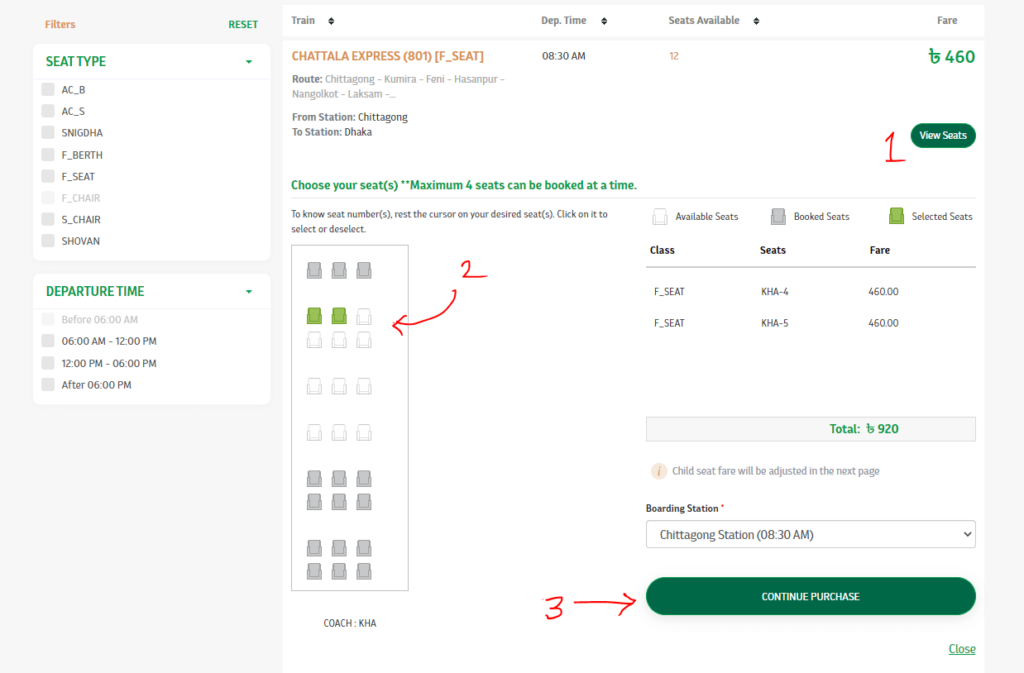 Select 5: Fill in Passenger Details
In this step, you have to select the number of seats booked, the names of the passengers and whether they are children or adults. If you have a 3 to 12-year-old child, select Passenger Type Child. If the child is selected, its rent will be adjusted or reduced automatically.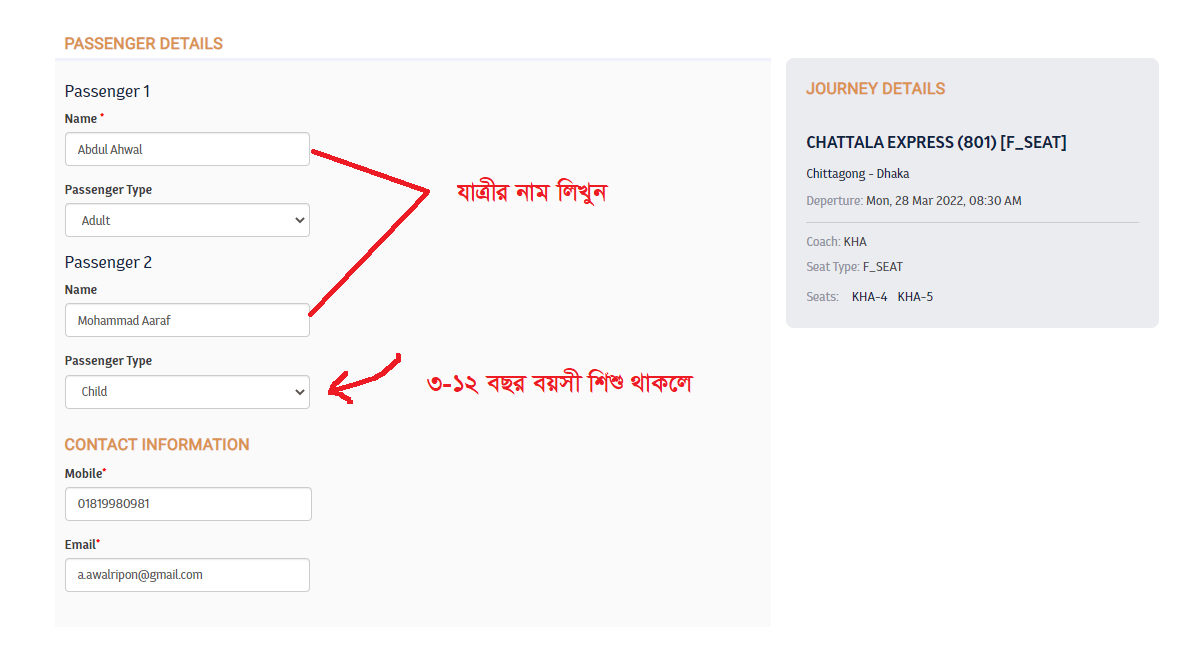 Select 6: Pay Train Ticket Price
The total train ticket price, VAT, bank charges and total expenses will be shown here. Choose Mobile Banking (bKash) or Debit / Credit Card option to pay the ticket price. Then complete the payment by clicking the Confirm Purchase button.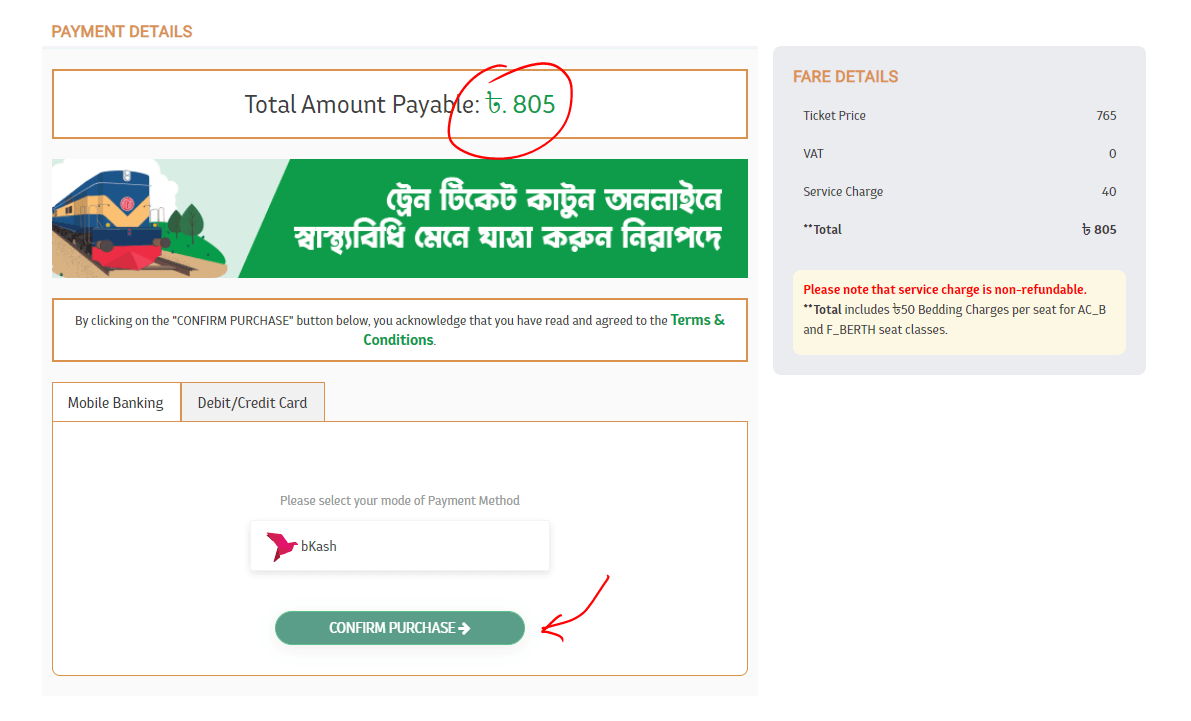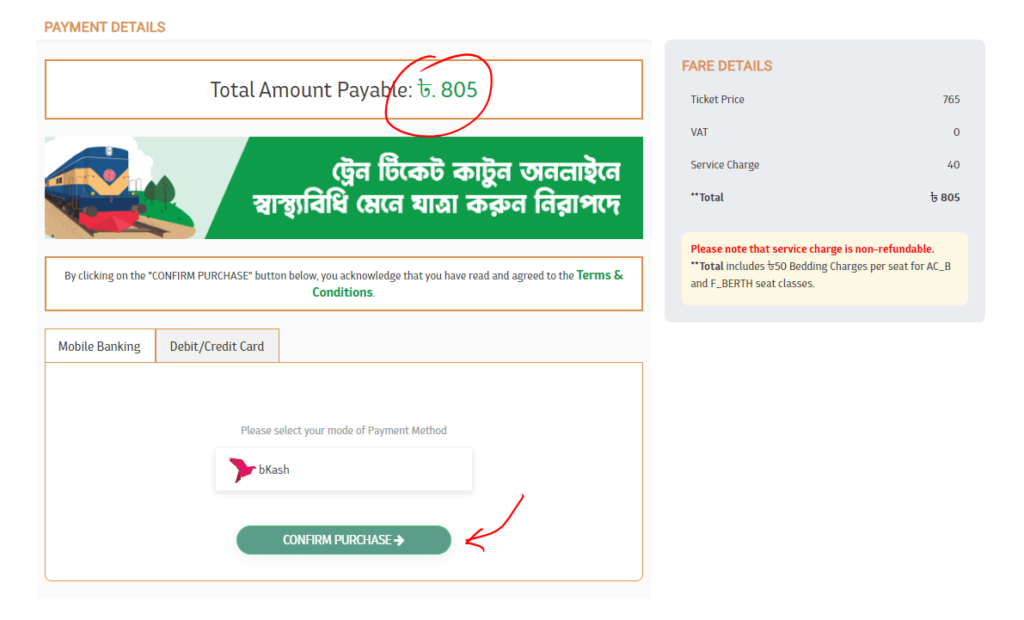 Step 7: Download and Print Online Train Ticket
Upon successful payment, e-ticket will be issued from Bangladesh Railway E-Train Ticket System. The ticket will be automatically downloaded from your browser. You can also download tickets from the Purchase History of your profile.
In addition, a copy of the ticket will be sent to your email. If not found in the Inbox Folder of the email, you can check the SPAM Folder. Print the ticket on A4 size paper.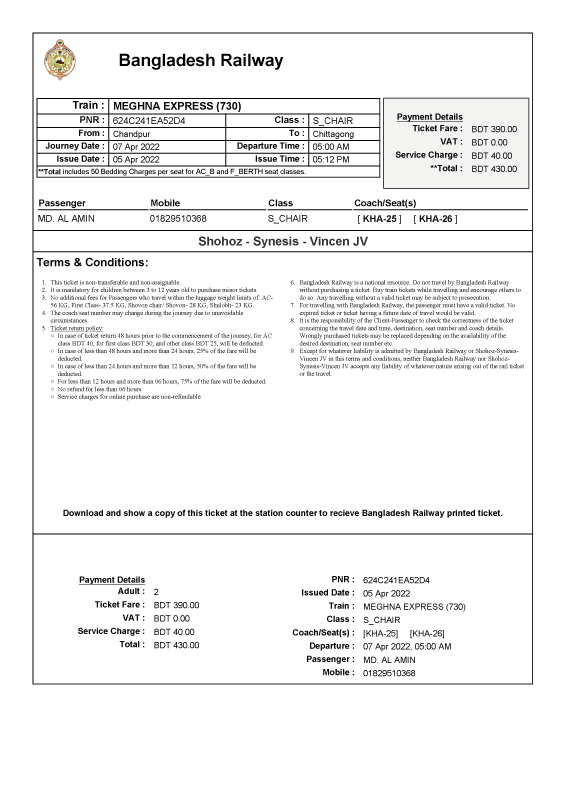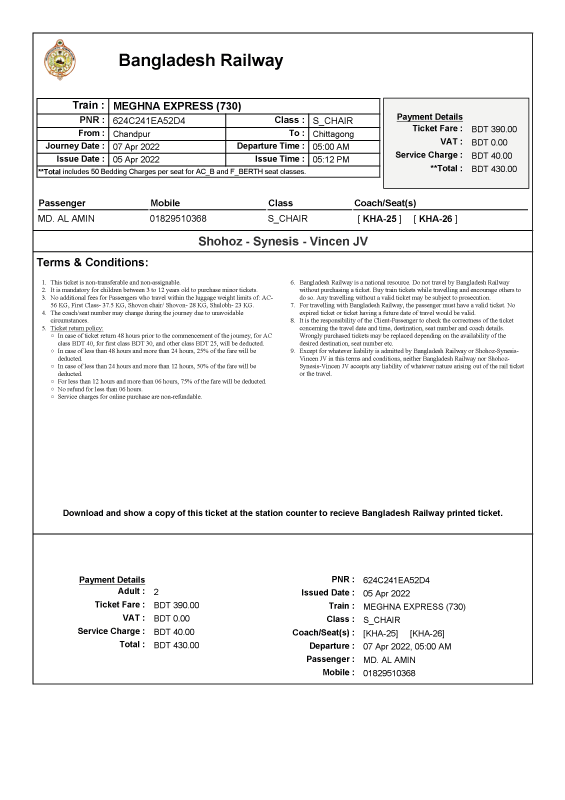 How to Book Train Ticket Online with your Mobile
To book a train ticket on your mobile, open Google Chrome on your mobile and purchase tickets in the same manner as shown above by visiting the site eticket.railway.gov.bd.
Book Train Ticket from bKash
To book an e-train ticket from the bKash app has not been updated yet. However, you can purchase train tickets by paying through bKash from the e-ticketing site of Bangladesh Railway.
Hope to be able to book tickets from bKash very soon. But it will be the same as booking e-tickets directly from the website. See how to buy train tickets from the website – Rules for buying train tickets from the website.
How to Check Train Ticket Online
To check train tickets online visit- eticket.railway.gov.bd. Next, click on the Verify Ticket menu from the right top. Enter the mobile number used on the train ticket and the PNR Number at the top of the ticket. Click Verify Ticket button.
If you buy a ticket from your profile, you will no longer need to check it. However, if you buy a train ticket online from someone else, you must check before traveling. Registration on the e-ticketing site is not required to check train tickets. You can check by visiting directly.
How to Cancel Train Ticket in Bangladesh
Those who have purchased train tickets online can get a refund by returning the tickets online. For this, log in to the Rail Sheba app or E-Ticket website. Refund the ticket from the Purchase History option in your profile. Besides, tickets purchased at the counter must be returned at the counter.
To cancel or refund train tickets online,
Log into Rail Sheba App or e-ticket website;
Go to the Purchase History option by clicking on your name;
Click on the Refund button on the right side of the ticket list;
Confirm the ticket refund with the OTP sent to the mobile.
Many people buy train tickets 4/5 days in advance. Travel may be canceled due to unforeseen problems.
The following charges will be levied for the return of tickets.
In case of return of ticket 48 hours before departure, BDT 40 will be deducted for AC class, Rs.30 for first class and BDT.25 for other class with a service charge.
If less than 48 hours and more than 24 hours, 25% of the rent will be deducted.
If less than 24 hours and more than 12 hours, 50% of the rent will be deducted.
75% off rent for less than 12 hours and more than 06 hours.
No return for less than 06 hours.
The service charge for online purchases is non-refundable.
Let's know full detail- How to cancel train tickets in Bangladesh.
Further Asked Questions
Which is the online train ticket booking website/app?
Currently, the only way to buy tickets online is through the website eticket.railway.gov.bd. You can buy tickets from the website according to the previous rules.
How long before advance train tickets are available?
Advance train tickets are available online 4 days in advance. That means a total of 5-day tickets can be bought including today and the next 4 days.
How to book a train ticket online in Bangladesh?
To book train tickets online, you need to register an account on the e-ticket website. Then after updating the profile information, you can search for the train to the destination of your choice and complete the payment and buy the ticket.
Can I buy tickets directly without account registration?
No. To buy a train ticket online, you need to register an account in the e-ticket system with your mobile, email and NID number and verify the mobile number.
How to verify a train ticket booked from an offline counter?
To verify the offline ticket purchased from the counter, first, register and verify the mobile on the Bangladesh Railway E-Ticket website. Then you can go to Verify Ticket menu and verify with your mobile number and a ticket number.
How to cancel a train ticket online in Bangladesh?
There are no rules for returning train tickets directly online. You need to go to the station counter to return the ticket. In case of a ticket refund, you will not get full refund, some charges will be deducted. Charge to return the train ticket.
More Information about Train Ticket
Advertisement